Could the only teacher in LA's school board race pull off a surprise win?
In this season of election surprises, could an upstart candidate win a spot on the Los Angeles school board, powered by little more than enthusiasm and word-of-mouth? *I think we might be surprised on March 7,* says teacher Lisa Alva, the upstart candidate herself. The school board election has attracted close to $5 million in outside spending, a not insignificant chunk of which has gone to Alva's opponent, charter advocate Monica Garcia. Alva may not have glossy mailers or an army of paid canvassers going door to door, but she has something that all those independent expenditures can't buy. She's a voice of genuine resistance—to reform experiments gone wrong, to *choice* for the sake of choice, and for the kids, the parents and the teachers who are being left behind. Can you tell I have a bit of a crush?
I met Alva two years ago when I was in Los Angeles to talk to people about Eli Broad's *bold* plan to move half of the city's students into charter schools within six years. I did what I always do on one of these edu-reporting adventures: I asked anyone I knew with an LA connection to hook me up. Which is how I ended up spending an afternoon with Alva in her English classroom at Roosevelt High School in LA's Boyle Heights neighborhood. A virtual edu-pal had introduced me to Alva; another contact, a documentary filmmaker, introduced me to Boyle Heights. Once the *Ellis Island* of LA, Boyle Heights was sliced apart in the 1960's by the East LA Interchange. That would be the intersection of six freeways built to transport Los Angelenos to the new suburbs and the tract houses that were blooming across California, thanks to a young home builder named Eli Broad. But I digress…
In the endorsement that Alva scored from the LA Times, she's described as espousing an *interesting mix of beliefs, including some that align with the school reform movement and others more in line with the positions of the teachers unions.* I'd put it a different way. Alva thinks teachers deserve to have more of a voice, in part to push back against misguided reform policies, like the botched experiment that played out at Roosevelt High School. In 2010, Roosevelt was broken up into seven small schools, each with its own principal and schedule, which created some, um, logistical challenges for a high school with thousands of students. *It was this microcosm of bad policy and bad decision making,* says Alva.
By 2013, five of Roosevelt's small schools had been re-combined—the only way that the school could remain viable, said Marshall Tuck, then CEO of the Partnership for Los Angeles Schools, which took over the school in 2008. *He basically said 'I guess we made a mistake,'* recalls Alva. Tuck is long gone; he ran for state superintendent in California as the charter guy in 2014 and lost. He's currently accelerating the effectiveness of new teachers here. As for Roosevelt High, well, let's just say that the patient has yet to recover. The money to pay all of those new administrative salaries had to come from somewhere, and that somewhere was classes, services for students and whole programs, like the one that trained students for careers in culinary arts. The small schools model was effective in making Roosevelt smaller; enrollment has plummeted since the Partnership assumed control of the school.
What makes Alva's emergence as a thorn in the side of Tuck et al is that she was once an #edreform insider herself. She was a member of the Partnership's Board of Directors, a TeachPlus fellow, a member of the teaching advisory board for Educators for Excellence, as well as Teachers for a New Unionism. She was, in other words, the reformer's dream version of what a teacher should be: seeking out leadership opportunities and steadily improving herself in order to [insert aspirational goals here]. But Alva's romance with the reform movement ended dramatically in 2013 over an incident that she recounted publicly here. In short, she was deeply disturbed by how quickly the alphabet-soup assembly of reform organizations in LA pivoted away from their self-proclaimed mission(s) to rally support for embattled superintendent John Deasy. Alva broke up with education reform, a decision she explained in a single, satisfying sentence: *The best place for an educator to protect and promote public education is the teachers union.*
I was familiar with the broad strokes of Alva's story when we met up. We spent the afternoon discussing a question that no one I'd talked to in LA seemed to be able to answer: what happens to schools like Roosevelt that take all comers as LA gets choicier and choicier? More importantly, what happens to the kids who are left in them? Alva was finishing up her National Board Certification when the first charter school opened in Boyle Heights in 2003: Oscar De La Hoya Ánimo Charter High School, or as it quickly became known, *Oscar.* The debate over charter schools was still largely an abstraction to Alva at that point, and then students began disappearing from her classes at Roosevelt. *They were, to a kid, my shining stars—the ones who motivate you as a teacher and who help the other kids; the ones who show that, with hard work and application, it's possible to learn,* recalls Alva. *They bring in this whole dimension of light and perspective to any classroom.*
The loss of those students helped her see what school choice means for the students—and the teachers—it leaves behind, says Alva. *I saw the part that no one ever talks about. For every beautiful, shining future that went to the school of choice, there was a kid who was disengaged, who had no support at home and was reading at the second grade level.*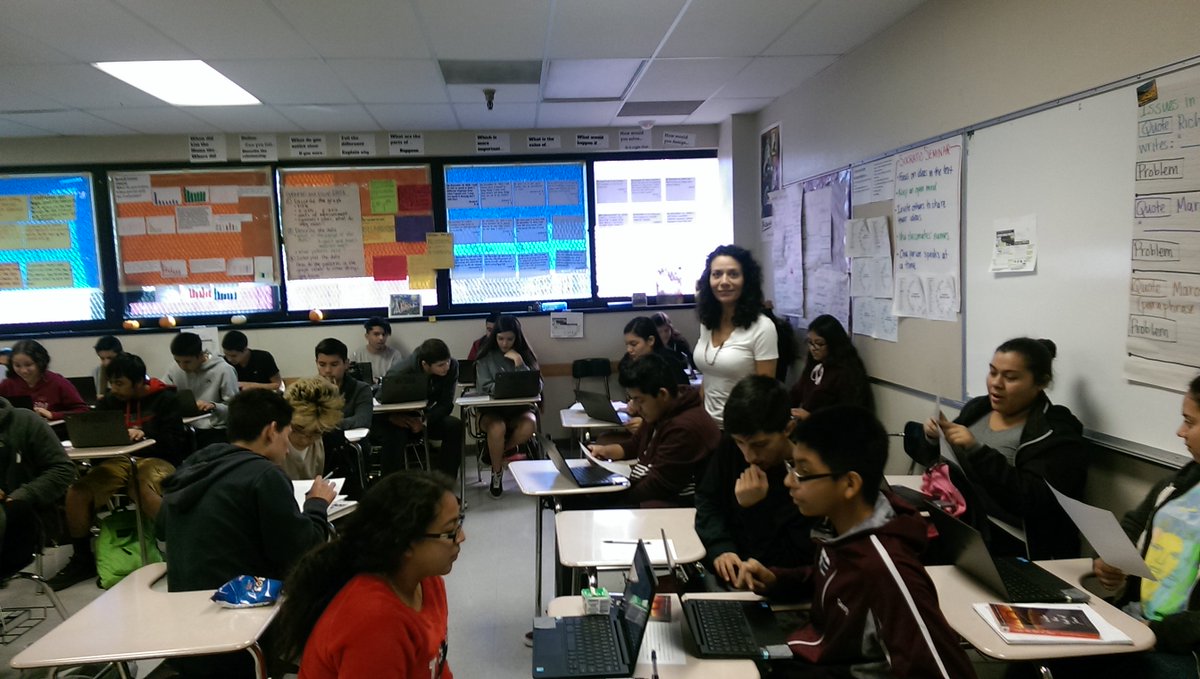 The loss of those students helped her see what school choice means for the students—and the teachers—it leaves behind, says Alva. *I saw the part that no one ever talks about. For every beautiful, shining future that went to the school of choice, there was a kid who was disengaged, who had no support at home and was reading at the second grade level.* As one future got brighter, the others dimmed further. By 2010, Roosevelt was being declared a *failure factory* in a documentary that chronicled the desperate efforts of one local student to avoid going there. The film was called Waiting for Superman.
Alva is blunt about what she sees as the problem. In place of constructing a vision of successful, vibrant and healthy schools that serve all kids, LAUSD has doubled down on choice. Says Alva: *Public education doesn't just serve the privileged kids whose parents are paying attention. It serves everybody; all comers. And that's the way it's meant to be.* LA hasn't figured out how to provide an ever-proliferating array of choices without reducing its Roosevelt Highs to the schools of last resort—no city has. Alva concedes that there is no easy answer but insists that the city's current path is unsustainable. *The district is trying to have it both ways where enrollment keeps dropping even as they allow charters to expand. Class size is out of control, teachers aren't getting the support they need, and you have this unhealthy competitive spirit where parents are fighting to get their kids into the 'right schools.'*
Despite running as a candidate for the city's teachers, Alva hasn't been endorsed by the union. The UTLA chose not to endorse anyone in District 2, marshaling its resources for higher profile candidates like Steve Zimmer, who is under assault by the California Charter Schools Association (CCSA) and an array of reform organizations. Even LA's former mayor has chipped in $1,000,000 to the anti-Zimmer cause. Alva gets an email every time her opponent, Monica Garcia, an avid charter supporter, gets a donation from an outside group. Which has been happening a lot. *I get as many as three of these alerts a day,* says Alva. The money has been pouring in via the CCSA and from the PTA. No—not that PTA—this would be the Parent Teacher Alliance, a pro-charter group whose slick mailers never mention charter schools.
Still, Alva is feeling cautiously optimistic. She's buoyed by the support of neighborhood associations that understand the vital connection between public schools and, well, neighborhoods. And she's encouraged by endorsements from progressive democratic groups and the Network for Public Education. *I'm the only teacher in the race,* Alva points out. She's also the only candidate who is pledging to be the *voice of the voiceless.* In a season of election surprises, here's hoping for one of the good kind.
Lisa Alva is a candidate for LAUSD Board of Education, District 2. She teaches at Bravo Medical Magnet High School in LA. You can donate to support her campaign here.